[I haven't forgotten about that cake...promise. I've not done it yet, but don't' lose heart, it's coming because I'm craving it. Stay tuned.]
I haven't' really lived in all that many places in my life, certainly haven't traveled the globe. I lived at the pink house from birth through 7, then moved to Pineville Road for about three years, finished out elementary school there. After Pineville Road we moved to Lincoln street where we lived for two years, through 5th and 6th grade. After that we landed at 313 Glenview Place. This was the biggest house I had ever lived in and seemed to me like a mansion. I lived in Southwest Missouri and folks in these parts build housed into hills, it's almost a have to more than a get to. We have a lot of hills. Our house looked like a one story, but had a complete first floor in the ground. The entire back of the house was exposed, and it was big. I really loved our Glenview house, the whole downstairs was mine after Sis left the house. It had a living room, two bedrooms, and a full bath (can you call a bathroom a full bath if it has a standing shower, no tub, sink and toilet?). Upstairs we had two living rooms and three bedrooms. It was a nice house.
The Glenview house provided a lot of memories for me, some I'd soon rather forget. Our neighbor's the Schmidt's had two children late in life and were the kind of parents that thought nature would do a better job raising them than they could. To say these kids were wild is an understatement. When I read Lord of the Flies I totally pictured these kids living in that jungle. Heather was the oldest, beautiful brown skin and dark brown hair. In she summer she would turn the deepest darkest brown and had an awesome tan. Her brother, Alan, was had the same melatonin blessing. Their Dad, Roger, was had that good tan gene which I envy. Alan and Heather lived outside most of the summer months and would come to our house to graze in our kitchen for grapes and fruit with their parents didn't buy for some reason. I loved Alan and Heather and their wild side. Before Alan was potty-trained he would walk around with a shredded diaper all the time because he climbed the chain link fence surrounding his back yard. Once he ate these poison berries and drank a whole bottle of ipecac to get it out. A tough cookie.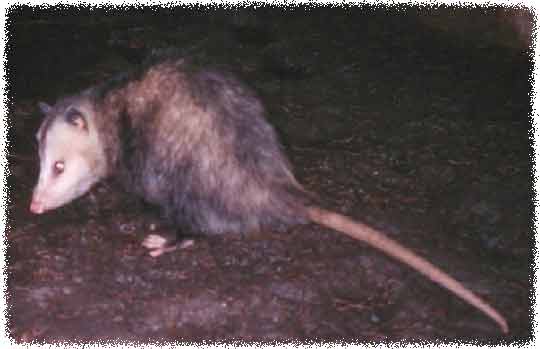 We had an opossum problem one summer, seemed these little buggers were interested in our trash and other treasures. Our road dead ended because there was a railroad track that cut through town. It was really overgrown and woodsy, so I imagine these opossums were rail riders. My encounters with wild animals is few and far between, since I'm a city boy. I kept hearing this odd noise on our deck as I watched TV. Summer meant I was home alone from 7:00 am until around 4PM. Intruders were not on my list of fun summer activities and to hear this continuous noise outside the door...got me a little twisted. I'm not the most brave person in the world--OK I'm a chicken! I knew enough to know I had to find out what this noise was before I called the police and went to my basement room to hide in the closet!
The intruder was an opossum! The little bugger had fallen into our trash can an
d couldn't get out. When you have an opossum in your trash can you want it out. How do you get an opossum out of a trash can? I certainly didn't know. I didn't want to tip the can over as I didn't want IT to come at me. He was hissing and all, "I'm gonna fight you human scum" wasn't' really having the best day. What to do. I had an idea. I went in the house and got some yarn from Mom's craft closet. I fashioned this noose and planned to catch the opossum and fling it over the deck--2 stories! I was hoping that it had cat like reflexes but was wanting it out of my trash can more. I didn't want to snag it around the neck (I know you were thinking that ) because I didn't want to choke it or have it's tiny little head slip out and free that sucker to attack me. The whole time I remember thinking, "...why isn't this thing playing dead? I thought they played dead?" I guess his opossum mommy never told him to do that but rather, "go out fighting don't be a wimp! It's high time we quit hanging from our tails and get something done." Don't' you just hate activist parents?
I got the noose around the tail, since they hang from their tails it shouldn't be too bad to pull it from the can to freedom. I slowly lowered the string down into the can...slipped it on his tail and yanked. I had caught an opossum (in a trash can!) NOW WHAT? He was not at all in favor of being snagged and the hissing got louder and louder. I was a nervous wreck. Calming myself down I said, "It's almost over....it's almost over...just count to three and flick it up and out the can over the deck." One...two...three FLICK! Like a pro hammer thrower in Track and Field I hoisted that thing up out and over the deck in one fail swoop. Ran in the house and shut the door. I wanted so badly to slide down the door into a puddle and just recoup, but I felt I needed to wash my hands A LOT.
About three hours after I heard this uproarious screaming outside. Alan and Heather were up to something and it was good. I went outside to see what was going on to find Alan and Heather. They had been in their back yard playing when they discovered something under the cattle tank, their dad bought a 50 gallon tank for a pool--an opossum with a string on it's tail! They were taking turns holding that string and spinning in circles. Screaming with delight. The opossum was completely sprawled out like a flying squirrel fingers stretched out hissing for dear life. Round and round and round and round. When Heather got too dizzy, Alan took over. This opossum had been spun for hours and toyed with and played with. "Will! Will! we found this opossum! It has a stahwing on it!" They would turn it loose then run after it, only to catch it by stepping on that string.
I convinced them that they needed to turn it loose. "We have to take the stahwing off." "NO! No you don't that would not be a good idea. Just let it go and be free you've had enough fun for the day." "Ohhkaay." Turning free I can honestly say I've never seen an opossum run faster than that thing ran. A straight b-line for the woodsy tracks. He wasn't coming back...no trash was worth the hell he went through.